Money
You genuinely want to be responsible with your money, I get it.
But you're just not sure what you need to do to make better financial decisions. Also, it's often not clear what the long-term financial consequences of your choices are. It's not surprising that most people just keep doing what they're currently doing.
That's why we have created the Your Wealth Your Way Financial Reset program. It gives you the opportunity reset your entire money situation and get back on track.
Let me explain how it works.


February
During the month of February, you will reduce your discretionary (or unnecessary) spending as much as you can, and hopefully down to zero. That means for the entire month, you don't spend money on anything that you know you don't really need. You know the stuff I mean - junk food, more clothes, fizzy drinks and alcohol. I even want you to cut out take-away food for lunch and dinner. Pretty much anything that you don't really need.
February will be a chance for your credit cards to take a break, and for you to feel good knowing that you are making choices that will benefit you. This February, you will replace impulse spending with intentional spending.
And here's why…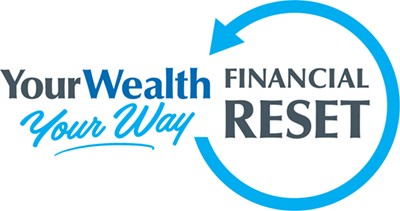 Habits
Your habits got you where you are and they will keep you where you are. A good habit, like saving a percentage of your money every month, is going to help you become more and more financially secure over time. A bad habit, like spending everything you earn every month (or even more thanks to easy credit), is going to hurt your financially over time. We all know this is true, but its just too easy to not think about it, especially with the business of life going on all around us.
Unfortunately, good habits almost never make a sudden and dramatic change to your situation. Whether its exercise, studying or starting a regular saving plan, it can be hard to notice any difference to your situation when you begin. But don't let the lack of immediate results be your reason for giving up, or to not even trying in the first place. Good habits practiced over long periods of time can literally change your life. And as an added benefit, they can positively impact the lives of the people closest to you.
Future
While you're focusing on being an intentional spender during February, my team and I will do some things for you as well.
The first thing we'll do for you is to create a detailed financial model which will show you what your financial future will look like, based on your current habits. You'll know everything from when you will fully repay your mortgage or car loan to how much you can spend in retirement if you want your money to last as long as you do.
Then comes the good part. We will closely examine your current financial situation and work out what can be done better. We then produce a second financial model which will show you what your financial future could look like, if you make the recommended changes, and replace some of those bad habits with better ones.
I'll provide you with graphical representations of both models, along with the relevant assumptions that have been used in a personalised report. Click the link below to see an example of such a report.
I am confident that you will be excited to see the difference to your financial future which can result from making a few, and often relatively small changes today.


Cost
"How much is this going to cost?" you ask. The answer is "not one cent". We will provide you with the personalised financial modelling and report at no cost. "But no one does anything for free", you say, "what's the catch?" The answer is simply that we are so confident that we can put you in a significantly better financial situation than where you are current heading, that you will be happy to become a paying client of our business.
But if for any reason you decide that you do not want to join us as a client, you still get to keep the report entirely obligation free. There is simply no risk to you.
Join
If you want to join us in February, please sign up using the form directly below. I'll be in touch with a couple of days to welcome you and answer and questions you may have.
If you're unsure about joining and you have some questions, please email me at jace@ywc.com.au or give me a call on 0402 866 869.
I look forward to hearing from you.
- Jace